Shortcut > Happy belated 4th of July – May this again be our land.. "Let America be the dream the dreamers dreamed. Let it be that great strong land of love. Where never kings connive nor tyrants scheme. That any man be crushed by one above." – Langston Hughes
July 4th, 2017
I'm always fascinated at the number of strangers that reach out to me when I travel. I suppose the accent as an American invites curiosity… or contempt… or just sheer confusion these days. In 2001, it had me welcomed with hugs and thank-you's from Moroccans while I traveled, but that was a different time. People seem to genuinely be asking what the American people are doing. Within the first week back in New Zealand the issue of Trump has come up on numerous occasions often leaving me questioning things I was trying to become 'okay' with. Last year, we were here pre-election and people insisted that Americans would NEVER elect him and laughed. See the first post for a little background.
On this 4th of July weekend at home, many of my US readers (ahem those 2 family members and 1 friend 😉 are celebrating with fireworks and parades as well as donning the red white and blue. Here, not to be mentioned, but from afar, I'm observing. I'm keenly observing what is transpiring back home. I'm also watching what is reported both on NZ news as well as Al Jazeera and the outlets during my 10 minute moments between kid napping and feedings and work.
On my first grocery trip to New World, in the town about 45Km away in Whanganui, a nice woman, about my parents age (baby boomer), noticed my accent in Aisle 10. She proceeded to ask where I was from and was happy to share she had a son in Kentucky. This son she missed dearly, but he married an American girl. The woman asked me sincerely 'What is happening there? What do you do about health care?'.  We probably chatted for about 10 minutes (a long time in grocery store time) as I filled her in on my roots in the Midwest and, yes, people there did actually vote for the guy, Trump that is. At this, she was aghast almost as if she thought I'd say no one actually voted for him and the entire percentages for him were a hack job…oh, so much to digress on here, but keep focus Lanah.
When she asked what do we do about health care, this knocked me back, again, as I hadn't worried about our health care for… oh, a week. The health care hits home with me for a variety of reasons not least of which is being a dual self-employed family, a 'so-called' American concept of pre-existing condition, two children and having worked on access to health care for kids and rural Coloradans for the first decade of my career. I explained costs and that if you didn't qualify for a federal or state program, you often spend $10,000 out of pocket even WITH insurance best case – again, aghast as here in New Zealand health care is free and universal.
Free and universal you say? A public base with private upgrade option?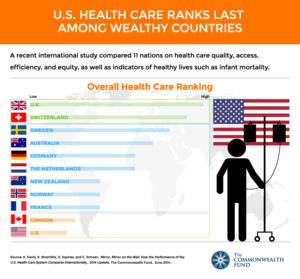 Wow, so like the US and free? No, it isn't fancy, nor is it 'sexy' here – don't look for a flat screen here in a hospital but you also don't have to look for a bill. When I had a very serious life threatening required surgery here nearly 10 years ago, I had a shared ward with other patients. I didn't have a flat screen TV, but I had timely and good care without ANY stress or bill. Can you even imagine just being able to focus on your and your loved ones well-being and health? I'll never forget my first experience with the health system in circa 2005 during my initial trip here when I got a huge gash on my ankle. Everyone insisted I go to the ER. I said no, no as I was just backpacking for a few months (well, ended up consulting but longer story) and was on a tight budget. Everyone looked at me blankly until my kiwi friends said 'she's American' and everyone said 'Oh…' while sitting totally confused why a bleeding young woman would refuse health care. The ambulance came, I was whisked away and taken care of. No issue, thanks to ACC (Accident Compensation Corporation) – another post could be on this great system covering any accidents. The other instance was presenting in ER while living a while in NZ and having severe stomach pain. No one around me was sitting terrified if they'd be kicked out, shoved on, or in medical bankruptcy for getting care. I think there is some serious research possible in terms of how health outcomes could be improved if we REMOVED the STRESS from simply getting care due to the insane costs. Health care bills still biggest reason for medical bankruptcy. Sorry, back to it…
What about insane taxes? And, no, the taxes aren't as shocking as any opponent of universal care may tell you, to be honest, give me higher taxes and make sure we all are well. It saves money for all of us in the long run and is the humane (fill in blank here with your religion) right thing to do. I digress…again.
For a country that sees health care as a human right, it is really hard for people here, and around the world, to understand the debate the US Continues to have on this, and the costs people have to make, as well as subsequent choices – Do I start my own company? Do I have a baby? Can I pay my mortgage or my health care bill?
We chatted for a while and she ended the conversation noting that she hopes they choose to return here in light of the 'situation' in the USA. Think about this. People are WORRIED about people in America, they pity us in many ways. When people ask if we are returning and raising our kids in the US they seem so worried as every day there is some drama of Trump, some threat to democracy, some shooting, some health care battle or some viral video of kids doing shooter drills as pre-schoolers – yes, this comes up often here. And, it isn't their imagination that the US is become 'less peaceful' if you see the latest Global Peace Index 2017 from a great site called www.visionofhumanity.org. The lady in Aisle 10 wished us luck and asked would we be returning to the US?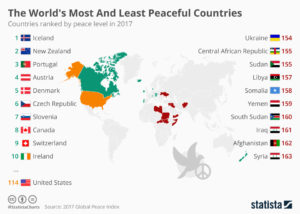 This is the tip of the iceberg, but again, in the first week these experiences remind me that I am in a different country. A different country with different systems in place. I'm old enough and have seen enough places in the world to know that NO place is perfect. That said, after living here 5 years over a decade ago and 6 months last year and at least another 6 months the year, I will vote for a universal plan any day as long as the 'basic' package is comprehensive and those who seek more, or flat screen tv's, can upgrade – here, you can purchase private insurance if you so choose. No, New Zealand doesn't have the most technologically advanced surgery suite for advanced cancer, but for 95% of care needed, it is a great system at less than half of what we are sending here. According to OECD per capita public and private health expenditures combined in The United States are $8,895.10 USD while New Zealand spends $3,291.80 USD. And, this is a fun little page to compare variables by country noting the data needs to be taken into context with details read – http://www.ifitweremyhome.com/compare/NZ/US.
Now, did you mention free early childhood education for all children 3-5 years old? What? Oh, yes you did. More to come on that one.
Oh, and happy Independence Day – may we someday again, I pray soon, be the beacon of light, beacon of hope and opportunity for all we once were. I have said this often but I want to be truly PROUD of MY AMERICA again. I traveled 25 countries most of them beaming with pride and receiving hugs and thank-you's from people… and later making apologies and giving hugs to the Iraqi man I met in Oman and others when they heard my accent. May I be able to travel with my kids and not want to hide my American passport in fear of it making us at risk. May we be a country that welcomes those in need and sees, that in doing so, we are being human and also working for long term national security. May this quote, from the great (and succinct) CTZNWELL newsletter,  be a reminder from Langston Hughes:
"Let America be the dream the dreamers dreamed. Let it be that great strong land of love. Where never kings connive nor tyrants scheme. That any man be crushed by one above." 
Peace.
Stay tuned for more from Lanah. A social impact consultant, world traveler, yoga teacher, writer, speaker and now mom of two littles exploring the world. Putting her Master's of International Relations thesis on Cosmotourism and the power of travel to connect each of us to the test on a daily basis…a little less roaming the 25 countries pre-kids, but some adventures await us from the Midwest to New Zealand and beyond.
SaveSave
SaveSave
June 20, 2017
Back in New Zealand. Nearly 12 years since I first stepped foot in New Zealand to explore, then stayed for 5 years working on national social policies, became a Permanent Resident and obtained my Master of International Relations Degree, I'm back with my two littles in tow – one just 3 and the other just at 6 months. Add in the husband and you have a full family adventure. And, if you are like me, you are keenly aware of how lucky we are to have the flexibility and opportunity to move across the globe freely as many do not – to see the massive movements underway, check out 'All the World's Immigration Visualized in 1 Map'… https://www.weforum.org/agenda/2016/07/the-worlds-immigration-in-one-map/
Background
We've now been in country 10 days and to say the least, it has been full of ups and downs as we start this next chapter. We spent 6 months in New Zealand last year as I worked on social policy for a private consultancy and this time we are continuing to work, but primarily online (social impact consulting, teaching peace studies and Fernando teaching music and voice lessons both in person and online). Hope to use this little blog to not only update on our travels, but also some keen awarenesses through the
social lens and the idea of 'cosmotourism' I presented in my Master's thesis : Considering Cosmotourism: An initial engagement with the latent cosmopolitanism of 21st Century Tourism.  In essence, the impact that our many small, individual level encounters have on creating a more understanding, peaceful world when so much seems out of our control on the macro level. For now, the travel logistics.
Extreme Packing Challenge
Traveling from the heart of the Midwest with two kiddos, 3 flights and packing for 6 months for all season weather attempting to travel light is a bit like 'extreme packing Olympics'. Traveling solo I was quite proud of my singular carry-on backpack but add in the diaper bag(s) and the challenge escalates quickly. That sa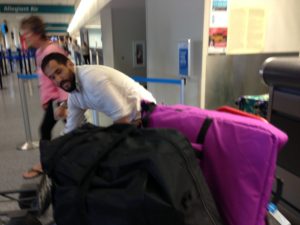 id, we managed to pack 2 backpacks and suitcase in addition to the free checked stroller bag and car seats. The prep for the trip renting out our furnished home, repairing cars, prepping Passports and immigration issues, etc.. could be its own blog, but I'll fast forward to the route to where I sit now, typing this around the log burning fire in a tiny town of Waverley, New Zealand part of the South Taranaki region in the central North Island region.
Long Haul Flight
Grandparents dropped us at the FWA  Fort Wayne International Airport where we took nearly an hour to check in creating a severe challenge for the young lady at the desk who admitted… "no one flys internationally from here"… another post for another day. Fortunately, Grandpa Hake and Aunt Betsy helped watch the kiddos as we sorted bags, tags and passports. Then a brief blessing as we watched our luggage float away on the carousal and hoping we see it again in Auckland, New Zealand 24 hours later.
Next we headed to the mini security test of FWA. All was well and we prepared for the first flight for Hake, our 6 month old and well seasoned 3 year old traveler.
Only a half hour flight to Chicago, it went great, no ear issues thankfully. Then, onto O'Hare and lucky to not have a big walk but time to run Sol around. Nearly 5 hour flight to LA went well and then was the real test of 5 hour layover at LAX boarding the flight at equivalent of 3am our Eastern Standard Time…so, traveling circus.
This was my first time not flying Air New Zealand as we opted to try American Airlines direct out of our medium Midwest town to skip a drive to Indianapolis or Chicago with tons of kid gear and seats in tow. The flight was on American Airlines new Dreamliner and they are nice planes. However, Air New Zealand has such a clear depth of experience as a long haul specialist AND the sky couch was brillian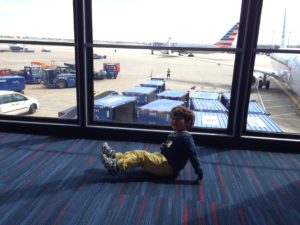 t last time – many poor reviews, but I loved it as a short person, short couple and a toddler who was able to literally sleep for a long few hours. https://www.airnewzealand.co.nz/economy-skycouch . Well, we didn't have it this time, but we also didn't have a long drive to another town so it all balances out. That said, the staff on American Airlines had a few issues, including one attendant nearly threw a hot tray on top of my baby as she was 'upset' about something else clearly. Complaint to them to follow in addition to the fact they seemed a bit confused by the landing protocol handing out immigration forms right as we were landing and the pilot didn't give the crew a warning to take their seats – I literally thought we might land with everyone standing. It was a bit bizarre, but thankfully safe. For those who are keen to know more about tips to travel success for kiddos, I'll try to do a little blog about this soon, maybe even a Vlog if I'm brave or if interest.
Peppa Pig Desperation
Well, we made it arriving at 7am New Zealand time. Kids conked out…parents did not. 13 hour long haul to Auckland highlights included compliments from fellow passengers in front of and behind us after the flights. So, it went as well as a it could. A few toddler meltdowns, minimal spills, no bodily fluid leakage even with last minute changes on the seat (with a pad, yes) and well, a win as we safely landed 7am AKL time exhausted but fueled on adrenaline after customs, immigration, potty stops, etc… And, no matter how many times I've entered countries over the years, I still get nervous and think about one of the most intriguing papers I read during my Master's titled technology at the border (I need to find this article!) and the power we handover to the border patrol as we stand in limbo, literally, between two functioning governments at the border and at the mercy of what appears on the border agents computer screen. If the screen says threat, then we are forced to defend our selves, being, etc… really a fascinating ethical debate. In addition to the 'confessionary complex' that takes place as the purposefully wind you through the maze and under many cameras as you make your way to them… a sense of guilt always sweeps over me as if I've done something, yet, I haven't! Another thesis here… but I digress.
Fortunately no line entering as NZ Residents which was great so off to customs, quizzing on any food items in our bag (note, NEVER try to bring fresh food in to NZ or you get fined), hiking dust on our boots and the full screen as their are very strict biosecurity standards for NZ to protect their unique ecosystem.  After lugging 2 kids, about 10 bags (had to collect stroller, car seats, etc.), we then were off to the rental car. After an hour or so of fitting items into the trunk (boot) of the car, we were finally on our way with very exhausted kids in two.  On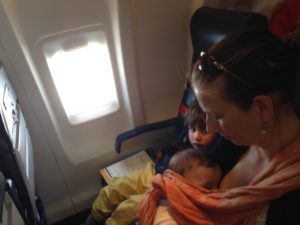 the road by 11am to drive to our first stop of New Plymouth before making it on to our housesit in Waverley. We made the 4 hour drive, not without a moment in which both kids were screaming exhausted – understandably after so much travel and being stuck in a car seat! At this stage, we dove deep into our trove of parenting desperation and began an narration of Peppa Pig – not sure of the bad accents we used, check this out for a recap  . Oh, how delirious parents, readjusting to driving on opposite side of the road with 2 screaming kids can create innovation on the spot  – we even mastered the oink sounds, but think we have room to improve on the content (ahem.. anything that pops in your head like 'oh, Daddy pig, did you see that sign for a curve, oink, oink…) to keep story going as 3 year old fights dozing to sleep). Laughing hysterically was good for our parental tired selves too. Fortunately, we also go to drive through a ton of rainbows, literally, as the kids slept – see my husband, Fernando's entry 'Driving Through Rainbows' here http://fernandotarango.com/blog/.
At least 30 hours travel in our belts we weren't pretty, but we made it to New Plymouth all exhausted. Had a few meltdowns by all and then were up by 4 am confused as can be by the time change, BUT were able to have breakfast overlooking the beautiful ocean and explored the funky little town of New Plymouth a bit and its chilly winter market which is quite a cute town and full of well laid out art, sculptures integrated into life and creativity. Next we were off to our 3 month housesit in Waverely… with NO idea what awaited us….stay tuned. I'll write as I am able in between work, kids, old farmhouse,  and traveling.
SaveSave
SaveSave
SaveSaveSaveSave
SaveSave
SaveSave
SaveSave
SaveSave
SaveSave
Nothing like a snowy Saturday for an epiphany. I've been volunteering the last few days at our inaugural Fort Wayne Fringe Fest, a festival concept with a long history that came to light in 1947 in EdinBurgh. It came to life to create a unique space for a broad range of performing artists to express their creative pursuits without being forced within often archaic definitions of what can be considered mainstream 'art'. Early on I thought, of course, I'm happy to help out and sponsor as this is related to social impact in that arts can be a powerful catalyst for community connection and economic development.  However, to be honest, I didn't realize how important the personal experience as an audience member of the performances would be for my own social impact potential.
Fort Wayne Fringe Fest is an inaugural Fort Wayne, Indiana event driven by passionate volunteers who believe art is a powerful force for igniting creativity, economic development and bringing community together. Just 2 days in to this 4 day event with 20 performances from Chicago, Atlanta, Columbus, Ann Arbor and local, I am reminded that there is profound power when creativity is provided space to breathe and connect. When given space, both from within our selves and literally, creative arts can ignite, inspire and empower all of us to open our selves to a fresh breath of creative out of the box thinking, collaboration and problem solving.  Only half way through the event and with 2 more days to go, I've already been moved in unique ways by these 'edgy' one of a kind performances I likely would never have experienced in more traditional art settings. Whether it was listening to and watching the captivating Identity Cubed and their unique percussion ensemble using instruments and making sounds I've never heard before, or Hope Arthur and her 20 piece orchestra weaving unique vocals and instrumental melodies together  magnificently or dAnce.Kontemporary sharing a truly beautiful story of love through dance in 'Cupcakes to Heartache'….every performance, in its own unique way truly provided me with a new experience.
My experiences the last few days remind me to continue exploring areas that are new to me and may not be linear, clear or overtly connected to my own growth on the surface. From a business perspective, I saw the connection of arts as a tool for social impact at a community level. However, if I had not engaged on a personal level as an audience member, I would have missed an immense opportunity to spark my own creativity. As I continually beg the question of how I can more effectively be a force for social change in my work and life, Fringe Fest has reminded me that there is a powerful ripple effect when creativity is shared that allows each of us to create our own space within for creativity to flow. As I experience creativity, I create space for creativity and by doing so my capacity for developing creative opportunities for social impact is only enhanced.
All shows mentioned above and a broad list of others are on today and through Sunday. Check out www.fwfringe.com and follow us on twitter: @fwfringe and on Facebook/FWFringe  for performance times. All tickets $5 with 100% proceeds to performers. Cash only. Food truck and cash bar on site. Special thanks to Jason Markzon and Fernando Tarango for their vision, leadership and countless hours bringing this to fruition in Fort Wayne as well as WunderKammer Company for offering the space for Fort Wayne Fringe to come to life!
Sometimes, it amazes me how we, as individuals and a society, can accept concepts without question. When a belief becomes so integrated into the fabric of society, we often just float along with it relatively complacent. As a strategic social impact advisor, I've been drawn to the world of supporting businesses to identify, streamline, integrate and execute the social impact  they know is possible while improving their bottom line.  Bringing social impact to you..and, more accurately bringing you to your social impact potential. The majority of this is focused on streamlining the philanthropic efforts that are a type of 'stand-alone' outside of the business process itself – for example, we 'donate' $50,000 to this charity, or we offer our services yearly to this group discounted and so forth. However, I have to admit, it was only more recently as I transitioned from the nonprofit and governmental arena after 15 years to a business owner, that I begged a question – Who said business is simply transactional? Who says that social impact can't be integrated throughout your business model? To be fair in disclosure, I'm operating from the belief that every entity has the opportunity to be transformational, that every business owner has a choice.
No surprise then that I was delighted to come across a great article by  Deborah Mills-Scofield in the Harvard Business Review blog, titled 'Every Business Is (Or Should Be) a Social Business'that speaks to this idea and provides some wonderful examples of businesses that refuse to accept the excuse of simple transactional model… they challenge the status quo and, in doing so, have created some extremely successful business models. Some of the questions that flow then, include:
Do we choose to accept the status quo that somehow business success is at odds with creating positive outcomes for those around us? We often focus on job creation as a key positive outcome but by doing so we limit our scope of awareness and impact.
What if we were driven by, and integrating, an awareness for the social and environmental implications from the beginning of research and development through our business process?
And, what if successful business models were actually enhanced by this social impact orientation and integration? What if we recognized that business + social impact = 'win-win'?
I've asked myself what it is that allows us to be complacent about our businesses being transactional? As a unique combination of a strategic consultant and a yoga teacher, I sense this stems from the disconnection many of us feel from our true drivers and, as a result, follow the encouragement to focus solely on transaction and profit. Through a range of mediums, including yoga or simple stillness, we can start to ask the question of why do we do what we do every day? What is it that drives me to provide this product or service? What is it that speaks to my core as an injustice when I hear it on the news? When we can create the space to ask these questions, reflect on what we stand for, what we want to see improve in the world, and combine it with what resources we have available (i.e. talent, time, treasure)…. I believe we can start the process of moving our own lives and our businesses from transactional driven entities to those that recognize and embrace the challenge and responsibility of transformational businesses. The key is to meet every business where they are on the social impact spectrum and, for those that seek to fully integrate the social impact model, assuring them it not only is possible, it is rewarding on many levels.
Do you think business +social impact = 'win-win'? Have you done this? Are you interested in trying? What are your experiences?
What are the small (or big) steps you'll be taking this coming year to enhance your positive social impact and well, maybe your life, work, business in the process? Over the coming month, I'll post one small step and a link to more information and action ideas to take it to the next level. Whether the shift happens solely in our daily lives, or  we change policy, it all is interconnected to affect the changes we want to BE and SEE in the world. So, Happy New Year and we'll  kick off 2013 with a step a day towards enhancing our social impact – comment with your ideas so we can share a step a day and ideas to take it to the next level!:
January 1 –  Reduce my plastic bag usage – I will pack my reusable shopping bag in my car & vow to bring in and use to lessen the 380 billion bags we use as Americans every year. 2013 Plastic Bag count so far: ZERO 🙂
Up til now, I've tried to use my reusable bag, but often forgot. However, when I'm reminded it takes anywhere from 100 to 1000 years for one silly bag to decompose, uses lots of oil and often ends up killing wildlife and breaking down the eco-system as a result, I think it is time for me to make that tiny extra effort to put a reusable bag in my car and remember to carry it in. Take a look at the links below to learn more and see how changing the incentive structure (i.e. taxing) helps to accelerate the shift in behavior quite drastically! When I was in Ireland I learned first hand how quick this change can happen – I forgot my bag 1 time and ended up carrying out loads of stuff in my arms which made me remember to bring a bag the next time! This was an example of plastic Tax: "In 2001, Ireland implemented a plastic tax (or PlasTax); the first of its kind, this route acknowledges the fact that people will still occasionally use plastic bags. This market-based solution discourages daily, thoughtless use of plastic bags by charging a nominal fee per bag at checkout. In a study by the Irish Department of the Environment it was found that plastic bag usage had dropped 93.5%. This breaks down to a drop from 328 to 21 bags per person each year." – More information here –  http://www.reuseit.com/learn-more/top-facts/plastic-bag-facts as well as this article on How Many Cities Have a Ban on Plastic Bags? highlights:
90 percent of plastic bags in the U.S. are not recycled

An estimated 

500 billion to 1 trillion plastic bags

 are used worldwide every year-

380 billion

 of those in the U.S.—and governments have been slow-moving at best to do anything about them. 

Every year, Americans throw away some 100 billion plastic bags after they've been used to transport a prescription home from the drugstore or a quart of milk from the grocery store. It's equivalent to dumping nearly 12 million barrels of oil." 

 There have been taxes on 

plastic bags since before 2008

 in Italy, Belgium, and Ireland, where plastic bag use dropped by 94 percent within weeks of the ban.
What do you think? Do you use plastic bags? Do you live in a place that has taxed or banned? Or, heck, maybe you are already plastic bag free and can give us an idea for another step to social change 🙂 Leave a comment below!
10 Socially Conscious Gift Ideas Creating a New Multiplier Effect
Consumption conjunction is what the holidays are all about, right? Spending, spending, consuming and well, still hearing that subtle voice that speaks in your ear as you walk through a crowded mall asking – Is THIS really what it is all about? If you hear this too, know you are not alone and the 21st century has an amazing array of easy, yet thoughtful ways to give a great gift while also being a positive force for social impact, environmental awareness, and, well, really just being a responsible global citizen. Now, don't get me wrong, I am typing this on a new Mac and I am not in 100% socially responsible garb, but I'm a human who is slowly but surely trying to evolve my own self and direction of my dollars towards a more positive ripple effect in the world beginning with a few questions that nag at me more frequently with each gift giving opportunity?
What was the path of the product to my hands? Who was supported or hurt along the way?
What did my dollars explicitly or implicitly support (i.e. inhumane working conditions, ecological damage, etc..)?
Is this purchase being a force for positive impact or working against it?
Instead of buying meaningless, consumer driven gifts that end up creating eons of waste and little to no long term enjoyment, I'm trying to shift to a more conscious driven gift giving (and consuming) that is a process of evolution in and of it self that allows for a new kind of multiplier effect – give a gift and be a positive force for peace and social change in the world! I can't think of a better win-win! Take a look at these ideas (and some of my favorite local Links shared but the idea can be supported in any location!) to create a ripple effect with the dollars you spend on gifts this year – Leave a comment below and let me know what we should add – the more ideas the merrier :
Give children access to what every child deserves – health care, food, clean air,  water & kindness while buying beautiful gifts – http://www.unicefusa.org/shop/ and Heifer International is an amazing organization where you sponsor animals for a village that allows for self sufficiency, social enterprise and a profound multiplier effect!
Support a local artist, Buy a CD or tickets for a great event  – (i.e. Fernando Tarango is one such local artist and many, many more ideas such as The Art Farm, tickets to the Fort Wayne Philharmonic, Fort Wayne Embassy, etc..)!)

Give a gift certificate to a socially responsible local business

that you love –  such as Downtown Deli & Marketplace for organic, locally grown deliciousness.
Donate to a great cause such as PBS or NPR and also get a great gift to give (i.e. PBS  – www.wfwa.org giving away Philharmonic tickets for $60 donation)

Buy a gift at a local 

Fair Trade Shop such as our local Creative Women of the World where your dollars support a better world and provide a beautiful gift
Give quality clothing (did you know more pesticides used on cotton than any other crop?) from great spots like our The  Fort Wayne Outfitters & Bike Depot that carries Patagonia, Lole, and other responsible clothing lines.
Give a membership or class from the local community center or garden to learn something new (ie. Fort Wayne Foellinger Freimann Botanical Gardens)
Give the gift of health– Give a yoga class, package or a massage (Had to add this – but if you are a business owner, why not bring in workplace yoga as a gift to your staff? I hear there are some great offerings at www.LanahLink.com/yoga ) – totally unbiased recommendation of course!
Give a Tree! Contact a local nursery or Arbor Day Foundation and arrange to buy a tree for them to plant to nourish the, earth, air and their view for years to come
Give fresh, organic food through a membership to the local Co-op, a CSA, organic food provider such as Green Bean Delivery
What are your favorite ideas for socially conscious gift giving this year?
PS I'm accepting that I don't have to be 'perfect' in getting 100% socially conscious gifts, but if I make one shift for one gift, enhance my awareness just a bit this year, maybe my one small action will cause a ripple effect of positivity that, soon enough, may make a tidal wave of change.
Offering a range of innovative solutions across the globe to connect, facilitate and link you and your organization to its social impact potential through: social impact snapshots, strategy consulting, program design, collective impact, stakeholder engagement, professional development workshops, facilitation and yoga for sustainable leadership.  
Lanah K. Hake Tarango is on a mission to accelerate the pace of social change. Premised on the belief we all can contribute to the collective effort of a better world, Lanah uses her 18 years experience, extensive education, and rare combination of strategy & creativity to accelerate social impact from the inside out.
Tedx text gere
Innovative strategic solutions through design, facilitation and implementation.