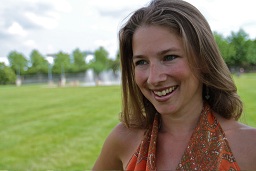 The passionate changemaker behind LanahLink Social Impact Solutions is Lanah K. Hake Tarango. Strategizer. Innovator. Educator. Convinced that each person has impact and we all have the opportunity to make ours a positive one. And, more often than not, clients are sitting on a wealth of opportunity to maximize their impact with just a little support.
Born in the heart of the Midwest America, Lanah is a citizen of the world (see Tedx Talk below) who cared passionately about social issues from her teen years volunteering incessantly. An experienced consultant with 20 years working on a range of impact projects in New Zealand and the United States for government, private and nonprofit sectors, she is also a globetrotter through 25 countries, a trained yoga teacher for leadership and social change through Off the Mat, Into the World and now a mother of two…. she's not your everyday consultant who parachutes in and out leaving you unchanged. A lifelong learner, she is also an educator and content curator including her online Intro to Peace & Conflict Studies course she teaches for a US University online. She is currently curating an Intro to Corporate Social Responsibility course as well.
Lanah works with you through active listening and digging deep to help you clarify and define your goals for impact. Most uniquely, she does this while building YOUR own confidence and capability. More of a 'consulting coach', Lanah brings the experience of 20 years leading a range of innovative and successful impact initiatives in the United States and New Zealand. See Lanah K. Hake Tarango Resume – 2020 for details.
Why LanahLink Social Impact Solutions?
Founded in 2012, LanahLink Social Impact Solutions offers businesses and organizations her expertise both in person and remotely to connect, facilitate and link businesses and communities to their social impact potential. She does this through collaborative, sustainable and innovative strategic advising, capability building and enhancing capacity around facilitation, workshops, advocacy and engagement. From idea conception and issue research to  program design and implementation, LanahLink empowers businesses to pivot to their social impact path successfully. Reinvigorated for a virtual focus in 2020, LanahLink supports executives considering their impact approach, small businesses seeking to craft their impact path and seasoned organizations working to address the same issue for decades, LanahLink brings fresh ideas and innovative solutions. 
LanahLink took root to accelerate the pace of social change possible and empower changemakers from all paths to be both effective and profitable. She believes in social change from the inside out and seeks to support any entity seeking to find or enhance their path to maximize positive impact. Some entities may use LanahLink for a brief Strategy Session to get ideas starting, others may retain her services to facilitate a year long impact strategy while others my integrate their personal wellbeing through a yoga for leadership session. Every path is unique and everyone is included as we progress to a positive alternative vision of the world where profit and peace isn't mutually exclusive. (See blog post for Lanah's project on the Peace Industrial Complex). 
Lanah spends her time primarily between America and New Zealand and is available virtually around the globe and in person when feasible. Book a session online or reach out at Lanah@LanahLink.com with questions. 
Learn about more about Lanah's worldview here: 
Your Impact. Our Mission.
I Believe A Better World is possible ....
….And it is up to each of us to carve our path. Let's work together to find your path to maximum positive impact and sustainability. . 
Rooted in a lifelong passion for volunteering, Lanah sought inner purpose towards her path of impact early. It is hard to 'unask' the question of  'What is my impact in the world?'…. LanahLink encourages you to keep asking and finding the path.
As She expanded her knowledge of truly sustainable leadership by becoming a certified RYT 200 Yoga Instructor and training with the internationally renowned Off the Mat, Into the World to use yoga and wellbeing as a tool for sustainable leadership and stress management.
Inclusivity is Key
Lanah has lived her commitment to cultural humility while exploring nearly 25 countries around the world, obtaining her Master of International Relations, and sailing the Arabian Sea (see Tedx Talk above
).
Your Impact. Our Mission.
We all have an impact..... Let's work together to make it positive.
Every path is unique. Let's carve yours. 
Ready to maximize your positive impact?