International Migration… with younglings in tow.
June 20, 2017
Back in New Zealand. Nearly 12 years since I first stepped foot in New Zealand to explore, then stayed for 5 years working on national social policies, became a Permanent Resident and obtained my Master of International Relations Degree, I'm back with my two littles in tow – one just 3 and the other just at 6 months. Add in the husband and you have a full family adventure. And, if you are like me, you are keenly aware of how lucky we are to have the flexibility and opportunity to move across the globe freely as many do not – to see the massive movements underway, check out 'All the World's Immigration Visualized in 1 Map'… https://www.weforum.org/agenda/2016/07/the-worlds-immigration-in-one-map/
Background
We've now been in country 10 days and to say the least, it has been full of ups and downs as we start this next chapter. We spent 6 months in New Zealand last year as I worked on social policy for a private consultancy and this time we are continuing to work, but primarily online (social impact consulting, teaching peace studies and Fernando teaching music and voice lessons both in person and online). Hope to use this little blog to not only update on our travels, but also some keen awarenesses through the
social lens and the idea of 'cosmotourism' I presented in my Master's thesis : Considering Cosmotourism: An initial engagement with the latent cosmopolitanism of 21st Century Tourism.  In essence, the impact that our many small, individual level encounters have on creating a more understanding, peaceful world when so much seems out of our control on the macro level. For now, the travel logistics.
Extreme Packing Challenge
Traveling from the heart of the Midwest with two kiddos, 3 flights and packing for 6 months for all season weather attempting to travel light is a bit like 'extreme packing Olympics'. Traveling solo I was quite proud of my singular carry-on backpack but add in the diaper bag(s) and the challenge escalates quickly. That sa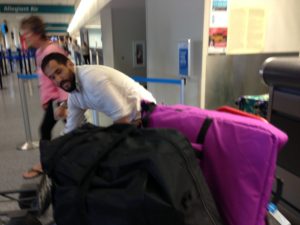 id, we managed to pack 2 backpacks and suitcase in addition to the free checked stroller bag and car seats. The prep for the trip renting out our furnished home, repairing cars, prepping Passports and immigration issues, etc.. could be its own blog, but I'll fast forward to the route to where I sit now, typing this around the log burning fire in a tiny town of Waverley, New Zealand part of the South Taranaki region in the central North Island region.
Long Haul Flight
Grandparents dropped us at the FWA  Fort Wayne International Airport where we took nearly an hour to check in creating a severe challenge for the young lady at the desk who admitted… "no one flys internationally from here"… another post for another day. Fortunately, Grandpa Hake and Aunt Betsy helped watch the kiddos as we sorted bags, tags and passports. Then a brief blessing as we watched our luggage float away on the carousal and hoping we see it again in Auckland, New Zealand 24 hours later.
Next we headed to the mini security test of FWA. All was well and we prepared for the first flight for Hake, our 6 month old and well seasoned 3 year old traveler.
Only a half hour flight to Chicago, it went great, no ear issues thankfully. Then, onto O'Hare and lucky to not have a big walk but time to run Sol around. Nearly 5 hour flight to LA went well and then was the real test of 5 hour layover at LAX boarding the flight at equivalent of 3am our Eastern Standard Time…so, traveling circus.
This was my first time not flying Air New Zealand as we opted to try American Airlines direct out of our medium Midwest town to skip a drive to Indianapolis or Chicago with tons of kid gear and seats in tow. The flight was on American Airlines new Dreamliner and they are nice planes. However, Air New Zealand has such a clear depth of experience as a long haul specialist AND the sky couch was brillian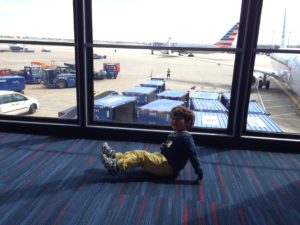 t last time – many poor reviews, but I loved it as a short person, short couple and a toddler who was able to literally sleep for a long few hours. https://www.airnewzealand.co.nz/economy-skycouch . Well, we didn't have it this time, but we also didn't have a long drive to another town so it all balances out. That said, the staff on American Airlines had a few issues, including one attendant nearly threw a hot tray on top of my baby as she was 'upset' about something else clearly. Complaint to them to follow in addition to the fact they seemed a bit confused by the landing protocol handing out immigration forms right as we were landing and the pilot didn't give the crew a warning to take their seats – I literally thought we might land with everyone standing. It was a bit bizarre, but thankfully safe. For those who are keen to know more about tips to travel success for kiddos, I'll try to do a little blog about this soon, maybe even a Vlog if I'm brave or if interest.
Peppa Pig Desperation
Well, we made it arriving at 7am New Zealand time. Kids conked out…parents did not. 13 hour long haul to Auckland highlights included compliments from fellow passengers in front of and behind us after the flights. So, it went as well as a it could. A few toddler meltdowns, minimal spills, no bodily fluid leakage even with last minute changes on the seat (with a pad, yes) and well, a win as we safely landed 7am AKL time exhausted but fueled on adrenaline after customs, immigration, potty stops, etc… And, no matter how many times I've entered countries over the years, I still get nervous and think about one of the most intriguing papers I read during my Master's titled technology at the border (I need to find this article!) and the power we handover to the border patrol as we stand in limbo, literally, between two functioning governments at the border and at the mercy of what appears on the border agents computer screen. If the screen says threat, then we are forced to defend our selves, being, etc… really a fascinating ethical debate. In addition to the 'confessionary complex' that takes place as the purposefully wind you through the maze and under many cameras as you make your way to them… a sense of guilt always sweeps over me as if I've done something, yet, I haven't! Another thesis here… but I digress.
Fortunately no line entering as NZ Residents which was great so off to customs, quizzing on any food items in our bag (note, NEVER try to bring fresh food in to NZ or you get fined), hiking dust on our boots and the full screen as their are very strict biosecurity standards for NZ to protect their unique ecosystem.  After lugging 2 kids, about 10 bags (had to collect stroller, car seats, etc.), we then were off to the rental car. After an hour or so of fitting items into the trunk (boot) of the car, we were finally on our way with very exhausted kids in two.  On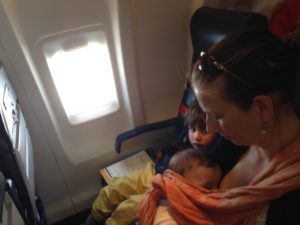 the road by 11am to drive to our first stop of New Plymouth before making it on to our housesit in Waverley. We made the 4 hour drive, not without a moment in which both kids were screaming exhausted – understandably after so much travel and being stuck in a car seat! At this stage, we dove deep into our trove of parenting desperation and began an narration of Peppa Pig – not sure of the bad accents we used, check this out for a recap  . Oh, how delirious parents, readjusting to driving on opposite side of the road with 2 screaming kids can create innovation on the spot  – we even mastered the oink sounds, but think we have room to improve on the content (ahem.. anything that pops in your head like 'oh, Daddy pig, did you see that sign for a curve, oink, oink…) to keep story going as 3 year old fights dozing to sleep). Laughing hysterically was good for our parental tired selves too. Fortunately, we also go to drive through a ton of rainbows, literally, as the kids slept – see my husband, Fernando's entry 'Driving Through Rainbows' here http://fernandotarango.com/blog/.
At least 30 hours travel in our belts we weren't pretty, but we made it to New Plymouth all exhausted. Had a few meltdowns by all and then were up by 4 am confused as can be by the time change, BUT were able to have breakfast overlooking the beautiful ocean and explored the funky little town of New Plymouth a bit and its chilly winter market which is quite a cute town and full of well laid out art, sculptures integrated into life and creativity. Next we were off to our 3 month housesit in Waverely… with NO idea what awaited us….stay tuned. I'll write as I am able in between work, kids, old farmhouse,  and traveling.
SaveSave
SaveSave
SaveSaveSaveSave
SaveSave
SaveSave
SaveSave
SaveSave
SaveSave