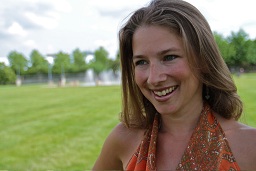 Who Is LanahLink?
The passionate changemaker behind LanahLink Social Impact Solutions is Lanah K. Hake Tarango.  Strategizer. Innovator. Educator. After 20 years working to improve our environmental and social impact, she's convinced that we all have an impact and we can work together to find the opportunity to make a positive impact while also being sustainable – financially and environmentally. 
Fair warning that she is not your usual consultant who drops in, does the work then disappears leaving you lost again until the next project. Instead, she engages with you as more of a 'consulting coach' to not only do the work, but empower and build your capability in the process (if you choose). Lanah brings over 20 years leading a range of innovative and successful impact initiatives in the United States and New Zealand to unearth and empower your maximum positive impact.  She believes every path is unique and everyone has an opportunity as we progress to a positive alternative vision of the world where profit, positive impact and peace isn't mutually exclusive. 
Founded in 2012, LanahLink Social Impact Solutions brings over 20 years of experience to empower businesses both in person and online to connect, facilitate and link businesses and communities to their social impact and peace potential. LanahLink believes in social change from the inside out and seeks to support any entity seeking to find or enhance their path to maximize positive impact. 
From the Midwest of America and a citizen of the world now in New Zealand, Lanah is passionate about working together to make a more peaceful world. Lanah spends her time primarily between America and New Zealand and is available virtually around the globe and in person when feasible. See the Tedx Talk below to learn more about Lanah's unique worldview: 
How Can we work together?
Through active listening and digging deep, she will help you to clarify and define your goals for impact in a practical and financially sustainable way. Most uniquely, she does this while building YOUR own confidence and capability that allows you to move forward with greater positive impact in everything you do. See Lanah K. Hake Tarango Resume – 2020 for details.
Some entities may use LanahLink for:
* One time Strategy Session to get ideas started or troubleshoot an issue
* Enhancing organizational capability by retaining her for services to facilitate a longer term impact strategy, programme design, facilitation or executive leadership support
* Professional development workshop to improve organizational wellbeing, efficacy and efficiency for the long term.
* Explore an innovative peace workshop linking your goals to a broader peace collective.
Learn about more about Lanah's worldview here: 
Your Impact. Our Mission.
I Believe A Better World is possible ....
….And it is up to each of us to carve our path. Let's work together to find your path to maximum positive impact and sustainability. . 
Rooted in a lifelong passion for volunteering, Lanah sought inner purpose towards her path of impact early. It is hard to 'unask' the question of  'What is my impact in the world?'…. LanahLink encourages you to keep asking and finding the path.
She expanded her knowledge of truly sustainable leadership by becoming a certified RYT 200 Yoga Instructor and training with the internationally renowned Off the Mat, Into the World to use yoga and wellbeing as a tool for sustainable leadership and stress management. 
Inclusivity is Key
Lanah has lived her commitment to cultural humility while exploring nearly 25 countries around the world, obtaining her Master of International Relations, and sailing the Arabian Sea (see Tedx Talk above
).
Your Impact. Our Mission.
We all have an impact..... Let's work together to make it positive.
Every path is unique. Let's carve yours. 
Ready to maximize your positive impact?